Who has not experienced Constipation in their lives? I guess every one of us have experienced constipation once or a while in our lives. Constipation is as common problem as headaches and cold these days. The episode of bout of Constipation can vary from mild to severe.
What are the Early Signs of Constipation?

Less than Three Bowel Movements per Week
Hard Stools
Feeling of Heaviness in Abdomen
Accompanying symptoms of acidity and bloating
Excessive straining
When you have caught these early signs of Constipation, it is really important to head towards the right direction in treating your Constipation. The right four ways to ward of Constipation as soon as you are aware that you are suffering from Constipation are as follows-
Drink 7 to 8 Glasses of Water in a day
Eat Fiber Rich Foods like  Fruits, Whole Grains, Nuts and Vegetables
Following Natural Constipation Home Remedies for Good Poop. Read for details- Home remedies for constipation
Choosing the best Fiber Powder for Constipation
Going about choosing best constipation powder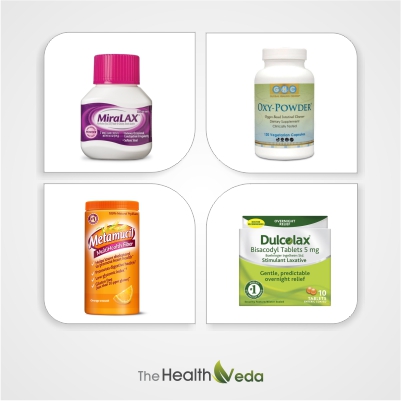 Choosing best Constipation Powder can make you run from store to store. Many Laxatives for Constipation relief like MiraLAX, Oxy powder, Metamucil, Dulcolax etc. are available in the market. These laxatives are immediate relief treatments. They may have side effects including allergic reactions, Electrolyte imbalance, Fatigue, Headache, drowsiness etc. To add, these immediate relief laxatives can lead to Gaseous and Bloating problems. Plus, taking these laxatives induces a habit of taking them regularly.
All of us run after laxatives when in constipation trouble, but do you know how Laxatives Work?
Laxatives contain such ingredients that facilitate stool mobility and further helping in easy bowel movement. One can try and binge over these 7 Wonderful Foods which act as natural laxative and are side effects free. The list of Natural Laxatives is as follows-
Leafy Green Vegetables
Flax Seeds
Aloevera
Probiotic Foods ( Read for details)
Coconut Water
High Fiber Foods like Berries and Apples
Chia Seeds
Choosing Ayurvedic way for treating constipation can work a great way for you. The science of Ayurveda employs time tested natural herbs which work as natural laxatives for your gut. Ayurvedic Constipation Powders which are available in market are Pet Saffa, Kayam Churna, Sat Isabgol .Let us compare and contrast Pet saffa and Kayam Churna.
Pet Saffa
Kayam Churna
Ingredients
Made of 11 herbs which are as follows:-

Senna
Ajwain
Ispaghula
Triphala
Bellirica & Emblica officinalis 
Svarjiksara
Haritaki
Amaltash
Saunf
Sonth
Nisot
Jeera
Castor Oil
Read about each in details- Pet Saffa

Made up of 6 herbs which are as follows:-

Senna
Ajwain
Haritaki
Svarjiksara
Mulethi(licorice)
 Nishoth

How it works?
Pet Saffa, Natural Ayurvedic Granules is very effective in relieving from Gastro-intestinal discomforts Constipation, forms regular bowels, helps in stool formation & promote increased stool pass along with reduced flatulence & bloating.

Kayam Churna is the natural laxative product. It is useful for Constipation, Acidity linked with Constipation, Gas, Headache linked with Constipation , mouth ulcer linked with Constipation.

Side effects

 Free from adversity and doesn't cause Blotting, Gas Buildup, Stomach Discomfort and Urgency.

Abdominal Pain or Cramps
Diarrhea
High Blood Potassium
Loss of Fluids

Sugar and Gluten
Free
Free
Mulethi (licorice)
Absent
Licorice is not recommended in heart disease, high blood Pressure, Diabetics, and Diseases of Liver, Kidney Insufficiency and Pregnancy.
Online Shopping
Buy Now
Buy Now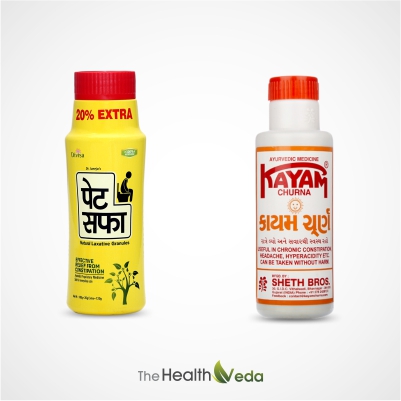 Pet Saffa is made of Eleven Herbs while Kayam Churna is made of Six Herbs. The additional addition of herbs makes its more effective. One more added advantage is Pet Saffa is not habit forming Ayurvedic Constipation Powder while Kayam Churna forms a habit when its use is prolonged.
Pet Saffa does not contain Mulethi (licorice), which is one of the ingredients in Kayam Churna. Licorice is not advised to be taken in Heart Disease Condition, High Blood Pressures, Diabetes etc.
Choose your Constipation Powder wisely. It is best to exercise, Drink lots of Water and eat Fiber rich Foods. Also eat Junk Food in moderation.
You might also like