Divya Churna – Pitanjali Medicine for Constipation is a very famous name as Ayurvedic medicine for treatment of constipation. Divya Churna is manufactured by Divya Pharmacy of Baba Ramdev under the umbrella of Patanjali and has become a lot more popular in market in last few years.
Divya Churna being aproprietary Ayurvedic medicine which means the formula of this herbal powder is not mentioned in any of the Ayurvedic text book. The manufacturer of Divya Churna has formulated it on the basis of expertise and knowledge. Patanjaliis amongst the list of Best Constipation medicine available in Indian market.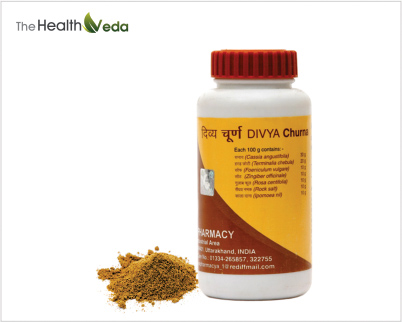 Ingredients List of Patanjali Ayurvedic Medicine for Constipation- Divya Churna
Here is the List of Ingredient Of Divya Churna:
| | | | |
| --- | --- | --- | --- |
| S.No | Common name | Biological name | Quantity |
| 1. | Swarnapatri/Sanai/Sonamukhi/ Seena | Cassia angustifoliea | 1.5 gm |
| 2. | ChotiHaritaki | Terminaliachebula | 1 gm |
| 3. | Mishreya (Saunf) | Foeniculumvulgare | 0.5 gm |
| 4. | Sunthi | Zingiberofficinale | 0.5 gm |
| 5. | GulabPhool | Rose flower | 0.5 gm |
| 6. | Saindhavnamak | Rock salt | 0.5 gm |
| 7. | Kala-dana | Ipomoea nil | 0.5 gm |
The main Ingredient is Seena which has Laxative, Purgative, cholagogue action, enhances peristalsis and secretions of Intestines
Rock saltand saunf increase the digestive power.
Haritaki bring laxative effect.
Dry ginger powder or Sunthi is appetizer, stomachic, thermogenic, carminative, laxative and is useful in many digestive problems such as colic, diarrhoea, flatulence, hyperacidity, abdominal pain, vomiting etc.
Dosage of Patanjali Constipation Medicine –Divya Churna:  1 – 3 tbs at night, after food with warm water.
Benefits of Patanjali Medicine of Constipation – Divya Churna
Divya Churna is an effective mixture of ayurvedic herbs known for treating constipation that is used for the treatment of chronic constipation.
It produces excellent results in individual of all ages, irrespective of age suffering from chronic constipation irrespective of age. It also helps in improving the functioning of all digestive organs and prevents gastric ailments.
It helps in the treatment of symptoms related with constipation such as, flatulence, bloating of abdomen,sour eructation and pain.
It helps in the secretion of digestive enzymes which help in proper digestion of the food. It also helps in proper assimilation and absorption of food so that waste material is excreted out from the body leading to both healthy digestion and excretion.
It can be taken regularly for a longer time period as it is natural and safe.
It is beneficial in treating people suffering from acidity problem.
It strengthens the digestive muscles and ensures normal working of all digestive organs for healthy digestion process.
Side Effects of Divya Churna – Patanjali Constipation Medicine
High dose of Divya Churna can cause diarrhea.
For Constipation in Kids, It should be taken in medical supervision.
Consult your Physician for its use in treatment of Constipation in Pregnancy.
Divya Churna contain black salt, so people with kidney related diseases and high BP should take care or consult their doctor
Patanjali Medicine for Constipation-Divya Churna? If you have any query or info, please add in comments. Do share your views with us.