Well, we all know Constipation, a commonly seen problem which is rarely discussed openly. Almost 80% of people suffer from constipation at some point in their life. Apart from the Home Remedies for Constipation Treatment which work on their own pace. There are many other options for the treatment of the Constipation which includes Instant & immediate ways to treat constipation which includes the medicines like Dulcolax, Miralax etc. then comes the Ayurvedic Medicines (Churna) For Constipation relief.
Ayurvedic Treatment for Constipation Relief is one of the safest ways to deal with constipation problem. Use of Time tested herbs make Ayurveda the best choice for those facing Constipation troubles. Pet Saffa is one of such Ayurvedic boon and a well-known constipation remedy.
Pet Saffa – Ayurvedic Medicine for Constipation – Review
Ingredients of Pet Saffa- Best Laxative Powder: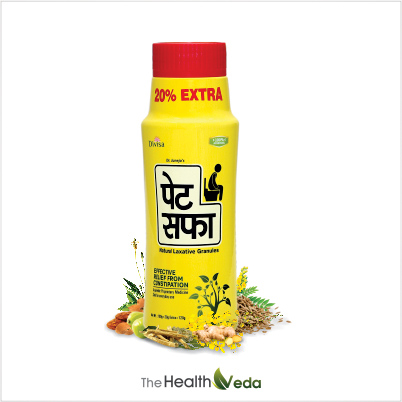 Pet saffa Natural laxative powder is a unique blend of 11 Ayurvedic herbs that are widely used from ancient times to relieve from constipation.
Senna– helps to treat constipation.
Ajwain– help to induce gastro-intestinal juices.
Ispaghula- increase fecal volume for smooth passing of stool.
Triphala – natural cleanser to rejuvenate digestive organs for more secretions.
Bellirica&Emblicaofficinalis- anti-oxidants to remove toxic substances from the intestine.
Svarjiksara- antacid to relieve from heart burn.
Haritaki- natural laxative to helps in relieving from constipation.
Amaltash- hepato-protective properties & helps in relieving from indigestion & abdominal gas.
Saunf- purgative (strong laxative) &hepato-protective herbs and enriched with numbers of minerals to sooth the intestinal walls to promote efficient functioning.
Sonth- digestive, carminative herb to promote digestive fire within the body to speed up the digestion process.
Nisot – digestive herb to help in relieving from constipation and effective over fatty liver, effective in abdominal pain, bloating & gas.
Jeera– Help in relieving from pain aroused due to flatulence, bloating & gas.
Castor Oil – natural anti-inflammatory and antibacterial herb to protect from gastro-intestinal infections
How Pet Saffahelp in Relieving from Constipation problem?
For answering this query first we need to know "What happens when a person is constipated"?. Here is the reply-Water is the main component of our body which plays a major role in healthy living. In case of constipation, stool passes slowly into the intestinal canal which causes removal of too much water from colon. Due to this, Stools become dry, hard and difficult to pass. Pet Saffa Natural Laxative Powder helps in softening and hydration of stools and hence relieve from occasional constipation.
Benefits of Pet Saffa- AyurvedicConstipation Churna
Pet Saffa is claimed to be beneficial in chronic as well as occasional constipation, gastric reflux, headache, acidity and mouth ulcer.
Side Effects of Pet Saffa-Ayurvedic Constipation Powder
Pet Saffa Natural Laxative powder is completely free from adversity and doesn't cause blotting, gas buildup, stomach discomfort and urgency.
Pet saffa Constipation powder is free from sugar and gluten. So, old age people can also use pet saffa constipation powder without worrying about side-effects.
How to Use Pet Saffa–Constipation Churna:
1 – 2 teaspoons at bed time, preferably before food with half a glass of luke warm Water.
Price of Pet Saffa (120gm): 72.00/- Rs.
Review of Ret Saffa on Amazon: 4/5
Pet Saffa- Best Ayurvedic Medicine for Constipation Treatment – Review? Are you also suffering from constipation? Have you ever tried Pet saffa Constipation Churna? What is your opinion? Do share with us.
Also Read: Best Home Remedies for Constipation
Pet Saffa – Best Ayurvedic Medicine for Constipation Treatment – Review, If you have any info or query, please add in comments.
You might also like