Ayurvedic Churna Review
The word laxative brings the famous Seagull laxative beach prank in mind where teenagers on a fine day for doing something exciting executed the idea of pouring laxative into pots of crushed Pringles crisps and left them out for seagulls leading to disgusting results for visitors on beach with their poop all around & over them.
Well, this seagull laxative story is enough to explain what laxative effect means. With this, "Piku" the famous blockbuster starring Amitabh Bachchan & Deepika Padukone has made us all know what difficulties does constipation brings along.
When thinking of Ayurvedic Laxative for Constipation Relief, the two common names which come in mind are the famous Kayam Churna and Pet Saffa. What if you have to choose one from them, in this case you have to check the main parameters of both Pet Saffa and Kayam Churna. By knowing the Benefits & Side effects of Pet Saffa & Kayam Churna, the decision making regarding what to choose will turn out to be much easier and this is also going to help in getting a detailed overview regarding the best Ayurvedic Constipation Churna in Indian market.

Here is the Comparison of the Best Ayurvedic Churna for Constipation (Kabz)
| | | | |
| --- | --- | --- | --- |
| S.No | Parameters | Kayam Churna | Pet Saffa |
| 1 | 100% Ayurvedic | √ | √ |
| 2 | Benefits of Triphala | X | √ |
| 3 | Benefits of Ispaghula | X | √ |
| 4 | Causes Dependence | √ | X |
| 5 | Safe for Everyday Use | X | √ |
| 6 | Contain Yashtimadhu | √ | X |
| 7 | Side Effects | √ | X |
Kayam Churna-Read More/Buy Now
Pet Saffa- Read More/Buy Now

Ingredients List of Ayurvedic Churna- Pet Saffa & Kayam Churna
 
Pet Saffa
Kayam Churna
Ingredients
·Senna a proven herb to treat constipation

·Ajwain an effective herb to induce gastro-intestinal juices.

·Ispaghula to increase fecal volume for smooth passing of stool.

· Triphala a natural cleanser to rejuvenate digestive organs for more secretions.

·Bellirica & Embilica Officinalisprovide anti-oxidants to remove toxic substances from the intestine.

·Svarjikshara acts as antacid to relieve from heart burn.

·Haritaki is a natural laxative to help in relieving from constipation.

·Amaltash it contains hepato-protective properties & helps in relieving from indigestion & abdominal gas.

·Saunf is purgative (strong laxative) & hepato-protective herbs and enriched with numbers of minerals to sooth the intestinal walls to promote efficient functioning.

·Sonth is a digestive, carminative herb to promote digestive fire within the body to speed up the digestion process.

·Nisot a natural digestive herb to help in relieving from constipation and effective over fatty liver, effective in abdominal pain, bloating & gas.

·Jeera is very beneficial in relieving from pain aroused due to flatulence, bloating & gas.

·Castor Oil is all natural anti-inflammatory and antibacterial herb to protect from gastro-intestinal infections

Benefits of 11 Herbs highly beneficial for promoting healthy Bowel Movement and fixing Constipation.

·Seena– mild Purgatives

·Ajwain– an effective herb to induce gastro-intestinal juices.

·Haritaki– mild Purgatives

·Svarjiksarabeneficial in gastritis. Improves the digestion capacity of Intestines & Stomach

·Mulethi (Liquorice)good for Stomach complaints, mouth ulcers & peptic ulcers

·Nishoth

Benefits of 6 Herbs known for dealing with problems related to Constipation.

Price of Ayurvedic Churna Powder – Pet Saffa & Kayam Churna
| | | |
| --- | --- | --- |
|   | Pet Saffa | Kayam Churna |
| Price (mrp) | 72/- (120 gm) | 72/- (100 gm) |
The Price of Kayam Churna (100 gm) (pack of 2)on Amazonis 144.00 Rs&Pet Saffa (120 gm) (Pack of 2) is also 144.00 Rs.
Benefits of Ayurvedic Constipation Churna – Pet Saffa & Kayam Churna 
| | | |
| --- | --- | --- |
| | Pet Saffa | Kayam Churna |
| Benefits | Pet Saffa is beneficial in mild & chronic constipation, as well as in occasional constipation. It is useful in treating problems related to constipation like gastric reflux, headache, acidity and mouth ulcer. | Kayam Churna is highly beneficial in chronic constipation, gas, acidity, mouth ulcer & headache. |
Side Effects of Ayurvedic Churna Powder- Pet Saffa & Kayam Churna
Pet Saffa
Kayam Churna
Side Effects
No Reported Side Effect
·Extreme high doses of kayam Churna causes severe stomach pain, dehydration & diarrhea

·Kayam Churna causes dependence when used on regular basis

·People with Diabetes, High Potassium Level, and High B.P should take it under medical supervision as it contains Yashtimadhu.

·On regular basis, it can result in developing a laxative habit by weakening the intestines and conflicting with natural peristaltic movements.

·Men seeking infertility treatment should also avoid long term use of Kayam Churna.

Company of Ayurvedic Churna Powder- Pet saffa & Kayam Churna
Pet saffa
Kayam Churna
Company
Divisa Herbal Care

(From the house of Dr. Juneja)

Sheth Brothers
Recommendation of Ayurvedic Constipation Powder in Pregnancy
| | | |
| --- | --- | --- |
| | Pet Saffa | Kayam Churna |
| Pregnancy | Not Recommended, unless prescribed by the doctor | Not Recommended, unless prescribed by the doctor |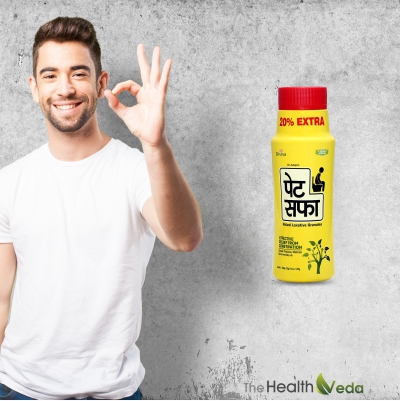 Above detailed description on Ayurvedic Constipation Churna (Powder), clearly depicts Superiority of Pet saffa Churna over Kayam churna. Pet Saffa Churna has more benefits and no reported side effect as compared to kayam Churna. The list of side effects of Kayam Chura is quite big which gives rise to a second thought in mind whenever thinking of taking Kayam Churna for treatment of Constipation (Kabz) or related problems. Every minute thing regarding health matters.. So Take a Wise decision for a better health throughout life.
Which is better & fast acting Ayurvedic Laxative for Constipation Treatment- Kayam Churna or Pet Saffa? Ayurvedic Churna Review? In case of any query or info regarding this, please add in comments.
You might also like