Weight Gainer Supplements and Protein Supplements
Many people are confused in choosing between a Weight Gainer and a Protein Powder. The real reason for confusion is not being aware of knowing the difference between Weight Gainer Supplements and Protein Supplements.
The first important prerequisite in understanding the difference between weight gainer supplements and protein powder supplements is to understand individually what constitutes Protein Supplements and Weight Gainer Supplements.
So, What are Protein Powders?
Protein powders are concentrated sources of protein which supplement the calories which come from proteins. They are derived from various sources like plant and animal derived protein sources. Plant and animal derived protein sources include Whey Protein, Casein Protein and Soy Protein. Let us have a brief info about each of these protein derived from different sources. These are as follows-
Whey Protein: It is milk derived protein and is considered the complete protein as it has essential amino acids. It is easily absorbed in blood and helps in protein synthesis.
Casein Protein: It is also a milk derived protein and offers a good protein balance when taken in conjunction with whey protein. Casein protein is not absorbed that easily in blood.
Soy Protein: It is a soy bean derived protein and acts as an excellent source of protein.
Protein Powders are concentrated form of proteins without any carbohydrate and fat content. They only fulfill the requirement of proteins required for our body. A serving of protein powder can give you around an average of 100 calories.
There is one question which comes into everybody's mind as to how protein powders specifically helps to increase Muscle Mass ?  Protein supplements helps to increase protein synthesis taking place in your body thus helping your muscles to get repaired quickly and thus adding muscle mass to your body.
There is important point for all muscle mass builders to take home-Eating protein supplements alone won't help in building muscle mass, it is important to exercise and do Strength Training Exercises like Weight Lifting  along to have good muscle synthesis and  thus good muscle development.
Let us switch over to next interesting question "What are Weight Gainers?" As the name indicates they help to gain weight. There are more aspects attached with weight gainer supplements.
Weight Gain Supplements complete in all aspects of nutrition that provide Carbohydrate, Protein and Fat content supplementing the exact and right number of calories you need. A serving of weight gainer can give you around an average of 700 to 1000 calories.
Weight Gainer Supplement market is big. They are derived from various sources which give the required calories from each source.
Carbohydrate Sources include the following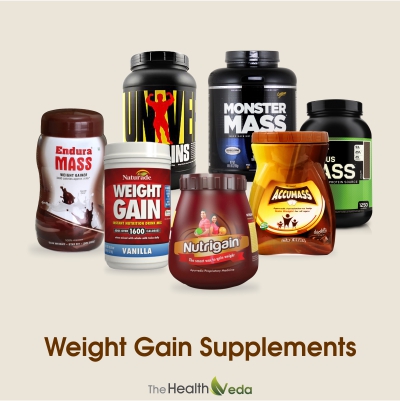 Dextrose
Oatmeal Powder
Potato / Rye / Barley Starch
Maltodextrin
Protein sources include the following. It is as follows:
Milk Protein Isolate like Casein and Whey Protein
Egg sources which may include Calcium Caseinate, Egg albumen
Natural Herbs
Fat Sources include the following. These are as follows:
Natural Herbs
Triglycerides from plant source or animal source
Some people may be allergic to various derived sources like dextrose or egg protein isolate. Some people may be purely vegetarian so they would not agree to the sources used in weight gainer supplements.
An Ayurvedic weight gainer supplement like Accumass or Endura Mass may come to rescue for some people. The science of Ayurveda is old and the herbs used in formulation are time tested and have proven to not have uninvited side effects .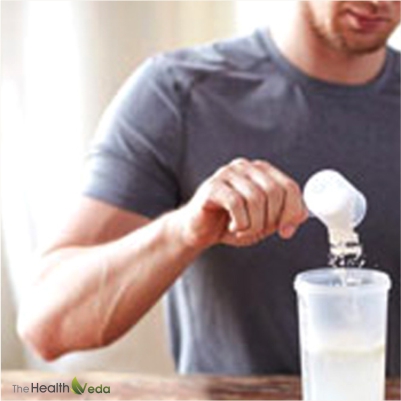 `Weight Gain is not equivalent to just Muscle Gain '.It gives you overall weight gain (including muscle gain) naturally by improving your metabolism. It is important to eat Healthy Balanced Diet and exercise regularly along with taking Weight Gain Supplements.
What is the difference between Weight Gainers and Protein Powders? If you have any other information, Please add in Comments.
You might also like