Himani fast relief Ayurvedic Pain relief ointment  is made of herbs.It is brand of Emami group. Everyone is aware of famous tagline which is associated with Himani fast relief, this tagline is `Dard mitaye chutki main'. The formulation with special herbs makes it safe and effective pain relief ointment. This ointment acts quickly by deeply penetrating the area of pain. The Active herbal ingredients relax stiffness and improve circulation.
Himani fast relief ingredients/Composition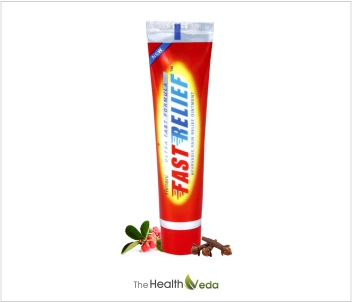 The following list of ingredients is used to make Himani fast relief ointment.
Wintergreen oil
Menthol
Eucalyptus oil
Camphor
Turpentine oil
Clove oil
Thymol
How to use Himani fast relief for body ache?
Apply Himani fast relief ointment slowly on the affected area in thin layers and massage gently till all the ointment is absorbed. Repeat according to the necessity.
Himani fast relief price in India
Buy Himani fast relief ointment 45 ml for Rs 110. Buy online for best offers on Amazon.
Buy Himani fast relief ointment 23 ml for Rs 70. Buy online for best offers on Amazon.
Himani Fast Relief Ayurvedic Pain Relief Ointment benefits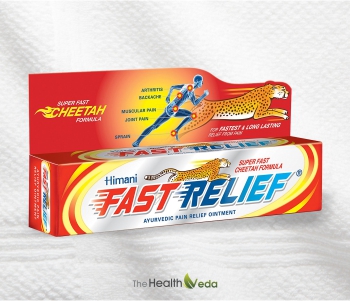 Himani Fast Relief gives instant relief from generalized body aches. The herbal ingredients have the ability to penetrate to the area of pain and relieving pain. The key benefits of Himani Fast relief ointment is as follows-
Arthritis
Muscular pain
Back ache
Joint pain
Sprains
Can you use Himani fast relief to cure headache?
No, it is not preferable to be used for headache. And also if we see the label it is not advised to be used for headache. Zandu bam or Navratan oil can be tried for Headache.
Pain Relief segment products other than Himani Fast Relief in the market
Moov (Brand by Reckitt Benckiser), Iodex (Brand By GlaxoSmithKline) and Dr. Ortho(Brand by Divisa Herbal Care )  are the other Ayurvedic brands for pain relief  available in the market.
My experience with Himani Fast relief ointment
Himani fast relief ointment relieved my back pain. I used to massage my back daily before going to bed. The herbal active ingredients gave me the instant relief after application. I love the soothing fragrance of eucalyptus and menthol and its application gave the cooling effect on my back. My pain vanished out just after 5 minutes of application. Himani Fast relief ointment is also very economical.
Himani Fast Relief Review- Ayurvedic Pain Relief Ointment,  If you have any info or query, please add in comments.
You might also like