Himalaya Herbals is a company based in India which focuses on beauty, health, and wellness products. The renowned Himalaya herbals are the founder of Rumalaya forte tablets. It is formulated with Ayurvedic herbs .The power of Ayurvedic herbs makes it efficient in treatment of joints pain. Not only it is efficient in treatment of joints pain, but it improves overall muscle health and improves joint flexibility. As Rumalaya forte tablets are Ayurvedic in nature so it gives relief without adverse side effects. The benefits of Rumalaya Forte tablets along with Rumalaya Forte gel has been documented well in research articles.
Rumalaya forte tablets and its ingredients/Composition
The following are the Rumalaya fort ingredients-
Boswellia / Shallaki (Boswellia serrata)
Indian Bedellium / Guggul (Commiphora wightii)
Rasna (Alpinia galanga)
Licorice / Yashtimadhu (Glycyrrhiza glabra)
Small caltrops / Gokshura (Tribulus terrestris)
Tinospora Gulancha / Guduchi (Tinospora cordifolia)
Rumalaya forte tablets – directions of use/indications
Take 2 capsules of Rumalaya forte tablets twice daily with meals. It is advised to be used with application of Rumalaya gel.
Rumalaya forte tablets-uses
Rumalaya forte tablets are useful for the following cases-
Joint stiffness relief
Rheumatoid arthritis
Osteoarthritis
Cervical and lumbar Spondylosis
Fibrositis
Bursitis
Synovitis
Capsulitis
Sciatica
Arthralgia
Gout
Rumalaya forte tablets –Benefits
1. It promotes blood circulation in the joint area.
2. It helps in reduction of inflammation and swelling in joints.
3. It helps in restoring normal strength of joints.
4. It helps in promoting flexibility and mobility of joints.
5. It helps in relieving pain from sprains and strains.
6. It helps in relieving pain from both large and tiny joints.
7. Rumalaya forte tablets support muscle energy and joint vitality.
Rumalaya forte tablet price in India
| | |
| --- | --- |
| Product | Price (in rupees) |
| Himalaya Rumulaya Forte 30 Tablet | 100 |
Buy Himalaya Rumalaya Forte 30 Tablet online at best price on Amazon,Himalaya store.
Rumalaya forte tablet side effects
Rumalaya fort tablet is not known to have any adverse side effects. The only precaution to be taken is to take prescribed dosage as mentioned on the label. Consult a physician before using it as the patient may be allergic to some ingredient.
Does Rumalaya forte tablet interact With Other Medications?
It is always advisable to consult a physician prior to using this product specially if you undergoing treatment for any other disease.
Rumalaya forte tablet Customer Reviews
"I bought this for my granddad who suffers from arthritis and he said it works wonderfully! Continue to make great products." – a consumer from Amazon.com
".I was desperate to try anything over the counter for my rheumatoid arthritis of the spine. After the 2nd day, I was feeling some relief. I continue to use it along with Cymbalta and Lyrica and I can now function like a "normal" person who is living with chronic pain." – a consumer from Amazon.com
Final Conclusion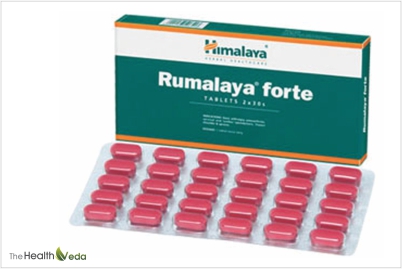 Himalaya Rumalaya forte tablet is an excellent product for you. The formulation with Ayurvedic ingredients makes it unique in getting relief from pain and inflammation in a natural way. Various clinical trials have been performed using Himalaya Rumalaya forte tablets along with Himalaya Rumalaya gel. All clinical trials yielded positive results. Also, the quality of ingredients helps in improving joint health.
Read more – Himani fast relieve ointment review
Rumalaya Forte tablets-Himalaya Herbal Review,  If you have any info or query, please add in comments.
You might also like