WHEN WE GROW UP, SKIN STARTS LOSING QUALITIES LIKE SMOOTHNESS, SOFTNESS AND START LOOKING DULL AND UNPLEASANT. OUR SKIN CARE GUIDE WILL HELP YOU TO RESTORE SMOOTH AND SOFT SKIN.

How to get glowing skin overnight? was a question asked by my friend which forced me to write this post. This is to help out all those who are looking for these tips.
 4 Weeks for Smooth & Soft Skin – Glowing Skin Secrets
DRY SKIN- BYE – BYE
With the right care, healthy routine and healthy everyday tips you will feel refreshed, full of charm and your natural radiant look will be back. Take out time from your schedule to pamper your skin. These simple nutrition and exercise tips will help to bring skin back to form. For a stress free, healthy looking skin we need a relaxed mind. Here we go!
SOFTER, ROSIER AND SMOOTHER SKIN IN JUST 4 WEEKS 
Ensure a Cleansing routine as per your Skin's requirements
Nutritive Diet is must. Skin gets nourished with Healthy Food and Drinks
Stay Calm & Relaxed, Stress is reflected on Skin.
Aerobics or Jogging or Running or Walking- Exercise is perfect workout for Skin
WEEK 1: YOU MUST KNOW WHAT YOUR SKIN WANT 

If you notice Dryness and Dullness, it is a symptom which is telling that something is missing. In the first week, we will ensure ideal conditions in which Skin is not lacking anything.
TAKE HELP OF A SOFT LOOFAH: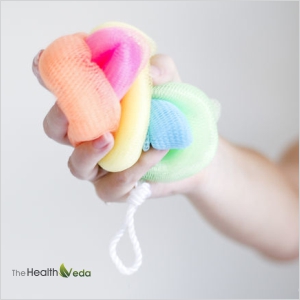 A GENTLE SCRUB DOES WONDERS
Ensure a Gentle Skin Cleansing Routine: Dry Dull Skin want gentle care. Prefer using a soft loofah and use lukewarm water for bathing. This is a gentle way for removing dead cells and stimulates circulation of blood. Remember, the higher the temperature of water, more moisture skin will lose. Consume your essential nutrients. This will help to Boost Immunity, Ensure Optimal Health, Reduce Inflammation and Lower Blood Pressure.
Go for a Relaxing Bath:
Whenever you are free and you have ample of time for a relaxing and long bath, go for alternating shower. When warm and cold water are mixed, it stimulates the circulation, tightens the skin and does wonders in making your complexion radiant.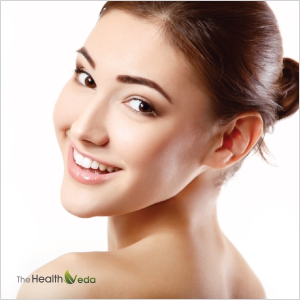 Choose Herbal Way to Beautiful Skin : Ayurveda is a healthy way to treat your skin. Ayurvedic Products contain benefits of naturally existing herbs like Aloe Vera, Neem, Haldi, Kheera, Menthol etc. These herbs help in nourishing, revitalizing, refreshing skin without ant side effect. Roop Mantra Ayurvedic Face Wash, Cream, Capsules, Soap are based on Herbs existing in Nature. It helps to purify skin, control acne, pimples and stop them from coming back.
Roop Mantra – A Complete Skin Health Solution for Entire Family.
WEEK 2- KNOW WHAT YOUR SKIN LIKES AND DISLIKES
Every skin has different characteristics.It has it's preferences as your skin does not like everything. We all have heard this common statement it does not suit me or it suits me a lot.
Tips for Healthy, Smooth, Supple and Soft Skin
Stay Hydrated- Drink plenty of Water : Drink at least 2 liters of Water every day.
Apply Cream/Lotion at Appropriate Time: The best time to apply a cream or lotion is after showering when your skin is still damp as it leads to better absorption.
WEEK 3: DO SOME EXTRA EFFORT FOR YOUR SKIN.

This week learn to invest some time every day for your Skin.
Give Extra Dose of Care to your Skin.
Try Meditation to Relax and Release Stress. (at least 15 minutes)
Do Yoga.
Go for Face, Neck and Feet Massage- It is good for Both Body and Soul.
WEEK 4: GETTING YOUR SKIN IN PERFECT FORM
For Radiant, Glowing, Relaxed and Appealing Skin – Let Your Skin Sweat.
Exercise: Exercising revives you and refills energy level. It helps in increasing Blood Circulation which delivers nutrients and oxygen to body cells and not only this, toxins are released out of your body in the form of sweat.
Sauna Bath: What happens here is the pores get open up by the heat and Skin's Metabolism works double faster than normal speed. This is the perfect time to apply a cream as it ensures deeper penetration hence the nutrients are absorbed effectively. Sweating ensures Healthy Skin.
Ayurvedic skin care Tips for Healthy & Glowing Skin? If you have any other query or information, please add in comments.
Healthy Skin in just 4 Weeks? If you have any query or info, please add in comments.
You might also like