Breakfast is considered to be a king size meal of the day. From ancient sages to the present doctors-all advocate good breakfast meal to stay healthy. The one who skips breakfast faces weak body issues including poor immunity and getting tired earlier. Not only has this, the whole digestion process and metabolism of a person takes a downfall when you choose to skip the most important meal of the day that is your breakfast.
Weight loss is as important as weight gain. Even for weight loss, dietician doesn't advice to skip breakfast. Weight gain programme includes regular workouts and healthy eating weight gain eating diet plans. Some people in haste to gain weight just forget to include variety and healthier options to try out for weight gain.
And do you think eating deep fried foods and processed foods will give you a healthy weight gain?? Ahh, not a healthy weight gain as you might think, let us redesign your breakfast meals into healthy meal plan. The redesigning will include just the right nutrient and calorie dense food options.
Every individual has different liking patterns for food. Keeping that in mind, redesigning of breakfast meals is done. Nevertheless, you can add or skip an ingredient according to your requirement and taste.
Delicious Weight Gain Breakfast Recipes
These breakfast recipes will indefinitely answer some of the questions like-
Healthy Indian breakfast recipes for weight gain?
                                Or
High calorie breakfast recipes for weight gain?
                              Or
What to eat for breakfast to gain muscle?
So, top 3 delicious weight gain recipes to try out for weight gain are-
      1.Paneer Almond Sandwich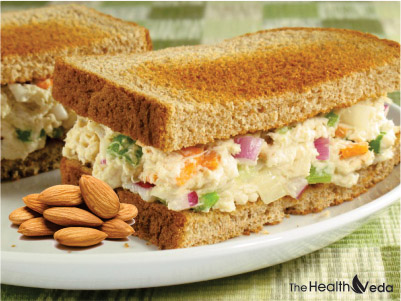 Multigrain white bread is a healthier option to include for weight gain plan in the morning. A protein and carbohydrate packed stuffing is the excellent filling you can use to make a morning meal sandwich. A glass of banana shake or a banana smoothie can be a great supplement idea with your delicious Paneer almond sandwich.
The list of Ingredients you need to make Paneer almond sandwich-
Multigrain white bread slices – 4
Almonds – 14
peanut butter /Amul butter– 2 tbsp
Paneer – ¼ cup, crushed
Jam-4 teaspoons
Butter – 2 tbsp, melted
Directions
Heat a non-stick pan on medium heat greased with 1 tsp of melted butter.
Place two bread slices on the pan and toast them on medium heat.
 In the meantime, Add melted butter to a small pan and when it is hot .add almonds to roast up.
Now, mix jam with the peanut butter and mix both of them well.
Apply the mixed mixture on bread slices and top with crushed paneer.
Add the grinded roasted almonds above it and close two slices make one sandwich. Enjoy the delicious sandwich


2-Fresh fruit smoothies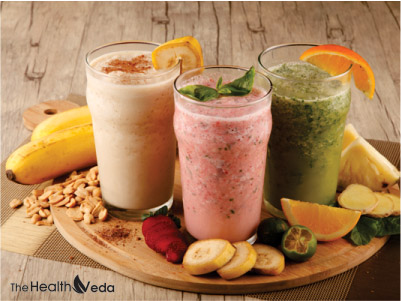 The classical advantage of fresh fruit smoothie recipes is that you can choose fruit of your taste. Fresh fruits like bananas, pineapple, peaches, mangoes and berries can work well for a weight gain regime. You can eat a parantha or egg sandwich with it.
The list of Ingredients you need to make Fresh fruit smoothie
Fresh fruits-Banana 1 medium sized;Pineapple-3 slices;Mango-1 medium sized; berries- 4
Yogurt or Tofu – 1 cup
Milk/soy milk/coconut milk/almond milk- ½ cup
Honey-one teaspoon
Strawberries-2
Directions
Take your fresh fruit and slice it into small pieces following by immersing in yogurt or Tofu.
After a smooth blended mixture is obtained add almond milk and blend it again.
Add one teaspoon of honey and mix it.
Place small crushed strawberries on top of it. Relish the smoothie and give a healthy temptation to your taste buds.


3- Oatmeal Peanut Porridge with toppings of berries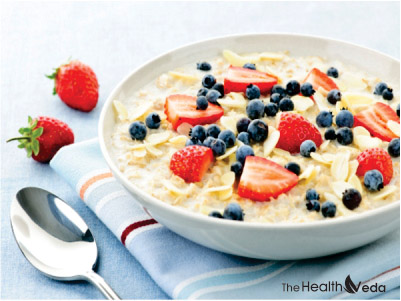 Oatmeal peanut porridge gives you perfect calories and healthy breakfast morning delight. Crushed peanuts or peanut butter can be used to give a perfect peanut taste. Oatmeal is healthy cereal and its 100 gram gives you 68 calories. And oatmeal peanut porridge made in milk can help in healthy weight gain.
The list of Ingredients you need to make Oatmeal Peanut Porridge with toppings of berries-
Oats – 1 cup
Water – 3 cups
Peanut butter-2 tablespoons
Peanuts – 10
Cinnamon powder – 1/2 tsp
Milk – 1 cup
Honey – 1 tbsp
Bananas –1 medium sized
Blueberries-3
Directions
Heat oats in a preheated pan on medium heat so as to roast them a little.
After this, Soak roasted oats in 1 cup of water for 10 minutes.
Then, add 2 cups of water to a large pan, add cinnamon powder and let it boil.
When boiling of cinnamon water is completed, lower the flame add soaked oats and cook for 2 minutes.
Remove it from the flame, add peanuts.
Further, Mix with milk and honey. (if you have not used peanuts in the previous step, add  peanut butter to the top.
Add banana slices (optional)
Crush blueberries and add to it. Relish the delicious porridge.
Binge on these delicious morning meals for healthy weight gain.
Looking forward to read what healthy morning meals you are eating for weight gain.
Read more- Best post workout meals.
Breakfast Recipes to try out for Weight Gain,  If you have any info or query, please add in comments.
You might also like