Nutrigain Powder Weight Gain Supplement is manufactured by Nutraceutical Company that specializes in Ayurveda called Ayurwin Pharmacy. Nutrigain plus powder contains natural herbs which help to gain weight naturally. The entire Natural Weight Gainer Formulation contains 14 to 15 natural herbs. The presence of natural herbs helps to improve overall metabolism of body. Ayurvin claims its Nutrigain Plus Powder to be 100% natural.
The following list of ingredients is used to make Nutrigain Plus Powder for Weight Gain.
Ashwagandha
Amalaki (Amla)
Gokshura
Mushali
Shatavari
Vatada (Badam)
Draksha (Grapes)
Ela
Kharjura (Dates)
Pippali (Long Pepper)
Maricha
Shunti (Ginger)
Jeeraka (Jeera, Cumin)
Madhu (Honey)
Sariva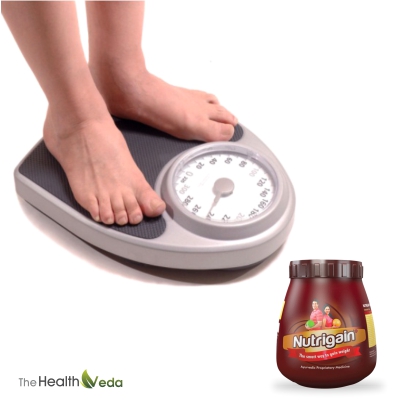 1. Increases Blood Circulation- Blood circulation is improved as blood production is increased. Presence of herbs in Nutrigain Powder Weight Gainer like Kharjura and Draksha increases blood production thus removing weakness and fatigue from body.
2. Helps in Fat Reduction- The miracle herb Ashwagandha present in Nutrigain Powder Weight Gain formulation is called natural fat burner.
3. Revamps Digestive System- Natural herbs like Pippali and Maricha which are present in Nutrigain weight gainer helps to improve appetite thus leading to revamping and improving your Digestion.
4. Natural Weight Gainer Formula- Natural herbs like Ashwagandha and Shatavari helps to Gain Weight Naturally.
How to use Ayurvin Nutrigain Powder/Granules – Dosage?
Add 2 scoops (25 grams) of granules to 50ml of hot milk and stir until the powder is dissolves, then add 150 ml of milk. Add sugar to taste if required. Drink Nutrigain Plus Weight Gain Powder after breakfast. For best results, it is advised to take 2 servings per day.
Nutrigain Price Powder/Granules
| | |
| --- | --- |
| Company | Ayurwin Pharma Pvt. Ltd. |
| Price of Nutrigain powder (500 grams) | Rs. 895 – Buy Now |
Nutrigain Powder/Granules Age Limit
Nutrigain Powder/Granules Weight Gainer is helpful for both Men and Women. It can be used by anyone who is above 12 years of age to Gain Weight Naturally.
Nutrigain Powder/Granules – Contraindications, Interactions, Side-effects and Warnings

Take the recommended dose as given on the label of Nutrigain Weight Gain Powder Box.
Some patients report of Stomach Pain, Nausea and Acidity after taking more than recommended Dose
Women should avoid taking Nutrigain Plus Weight Gain Powder during pregnancy.
It contains Trikatu (Blend of Pippali + Shunti (Ginger) + Black Pepper) which is hot in potency and increases Pitta in body. Trikatu is effective for burning Ama (Metabolic Waste and Toxins).But in some people it can lead to Hyperacidity type of problems..
The results vary from person to person as it depends on various factors like Good Diet, Amount of Water Intake, Regular Exercise and Genetic Constitution.
For best results, it is advised to use regularly for three months.
Also Read:
– Accumass Weight Gainer Review – Does it work? Side Effects & Ingredients
– Endura Mass Review – Does This Weight Gain Supplement Work?
You might also like