Acupressure may seem an uncommon word to few people but acupressure is the new catchy term for the ones who are looking for an effective home remedy to treat joints pain. So, What  is Acupressure?. Acupressure is the ancient science of natural healing which uses fingers as soft probes to press specific points which are considered to be high density energy radiating regions so as to give a natural healing effect to the specific underlying painful areas.
The discovery of science of Acupressure shares the simple association with pressing of temples or forehead when you suffer from episode of headache. The simple pressing technique turned out to be a miracle healing for your headache thus making these points as acupressure points. So this is how by hit and trial method various acupressure points in our body were discovered.
Well, keep your curiosity alive in reading the answer to most common question which is coming in your mind while reading about Acupressure. So, the question is `Who invented Acupressure'?. The invention of acupressure was from the sharp minds of Chinese people around 5000 years ago. Chinese people gave a medical theory which illustrated acupoints or famously called acupressure points for the first time as same energy channels, whose pressing send a wave of vibration along the channel to the targeted area of pain thus give away natural healing effect to the pain.
Top 5 Applications of Acupressure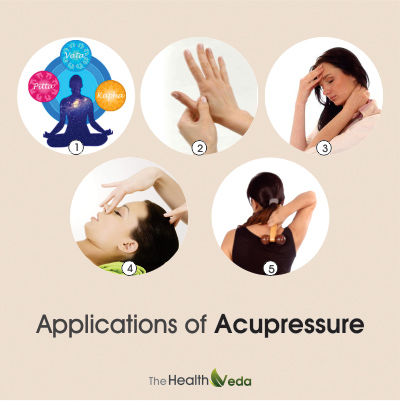 There are diverse applications of Acupressure in healing our body naturally. Benefits of Acupressure are as follows:-
It balances energy levels in the body as with the disturbing of doshas (Doshas are the mainstream biological energies in the human body according to Ayurveda).
It helps in relieving pain such as joints pain, headache, stomach pain So how it relieves pain? It does so by helps in improving circulation and also by reducing muscular tension thus giving a relaxation effect to muscular area.
Apart from Acupressure miracle healing for physical pain, it acts a super healer for emotional pain thus helpful in reducing stress and hypertension.
Acupressure works really well for skin. The basis of achieving excellent skin with Acupressure is due to improved circulation which eventually reduces the risk of premature ageing by causing reduction in process of wrinkle formation and thus giving dullness to the skin.
Acupressure is akin to self massage and thus nourishes cell to cell connection thus giving fresh lease to the cells to heal and get repaired quickly thus improving the metabolism in a very efficient way.
So, having known what acupressure is all about, let us switch to answering the next most important question and that is `How do you do Acupressure'?
The first advice while performing acupressure is to identify the area of pain and thus then trying acupressure. It is very important to know the intensity and area of pain.
The second advice is to sit in a comfortable position with closed eyes and deep breathing. This advice is akin to phenomena of relaxation you adopt before meditation.
The third advice is to good pressure on each point and let it undergo stimulation repeatedly forth and back.
The last and the most important advice is to learn the art of Acupressure from a professional expert as any wrong pressing of points can aggravate your pain instead of healing it.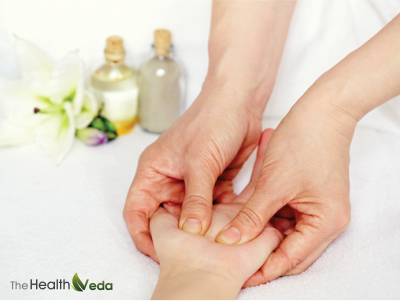 `Acupressure is the simple way
                                                                                       Of balancing energy imbalances in a perfect way
                                                                                                               Heal by Acupressure
                                                                                              And feel the power of natural healing'
You might also like