Tennis elbow is superficially defined as inflammation and pain associated with the elbow joint. General masses are not aware of this term as it is peculiar and common in tennis players. Are you a tennis player? Well, I am not a tennis player but my niece is. Last week she complained of severe pain in her elbow joint. Then I broaden my research and found it to be characteristic pain being suffered by tennis players. This blog will give you a good insight about tennis elbow, its causes and symptoms and hence it's treatment.
So, What is Tennis Elbow?
Tennis elbow is a condition most commonly experienced by tennis players due to repetitive stress on the forearm tendons due to holding tennis rackets in wrong positions for playing different tennis strokes. One important thing to note here is that it is not limited to tennis players'. Any excessive stressful activity which puts stress on elbow joint can give you tennis elbow. For say, activities like constant use of hammer or screw driving or painting for hours all together may be responsible for symptoms of tennis elbow.
A technical look-What happens in tennis elbow?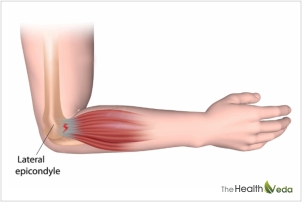 Medically tennis elbow is being called lateral epicondylitis. We all may coolly call it tennis elbow. But, the next time you visit to doctor and diagnose it as lateral epicondylitis, you must be aware it is your very own tennis elbow. Twisting your wrist by the repetitive motion can injure and tear muscles which extend from elbow to wrist to fingers. The site of injury is bony bump (called lateral epicondyle and hence the name lateral epicondylitis) which is outside your elbow joint.
What causes tennis elbow?
Repetitive stress on elbow joint
Overuse of elbow joint
Playing the sport in wrong way
Stiff tight muscles due to already stiff shoulder joint
Excessive gripping
Signs and symptoms of tennis elbow
Inflammation in the outer portion of elbow joint
Redness due to inflammation
Soreness of elbow joint
Morning stiffness of elbow joint
A sharp pain
Weak grip strength
Treatment of Tennis Elbow
The first important point to be kept in mind while facing any type of pain in shoulder joint or a sharp arising pain from elbow joint is not to ignore even the mildest pain. As this mildest pain may become the disastrous chronic pain and can block normal motion of your hands. The initial starting pain indicative of tennis elbow can be relieved by following the under mentioned methods. These are as follows-

1. Take rest
Taking rest becomes significant in case of nagging pain. It is advised to take break from playing tennis and other activities which may be putting stress on your elbow joint.
2. Use tennis elbow brace
A tennis elbow brace will provide support to the forearm area thus helps in reduction of signs and symptoms associated with tennis elbow.
3. Physical therapy
Light mild exercises under the supervision of doctors can be performed to heal the tears in tendon causing tennis elbow. But, do not exercise in excess and if pain increases after exercising, it is advised to not perform any exercise.
4. Quick relief by Ayurvedic joint pain sprays
Use Ayurvedic joint pain sprays like Dr.Ortho, Moov spray and Himani fast relief spray for tennis elbow. As Ayurvedic joint pain sprays are made of herbal ingredients so it safe and very effective in healing tears in muscle and tendons.
5. Non steroidal anti inflammatory medicines
If a constant pain afflicting your elbow joint doesn't go, Aspirin and Ibuprofen can come to your rescue. But don't overtake these drugs. You can try turmeric and milk drink for healing pain and swelling. Read more- Benefits of turmeric for joint pain.
What Next? 🙂
Well, if your pain gets severe,It is best to do a Xray and Magnetic resonance imaging scan(MRI) ;as sometimes the starting area of pain may be your stiff neck. A pain from stiff neck may have reached your elbow joint and giving you tennis elbow pain.
Share your Tennis elbow pain stories with us.
Read more – Sports related injuries
What is Tennis Elbow? , If you have any info or query, please add in comments.