What is the Importance of Good Digestion of Food in Body?
The importance of good digestion always comes into picture when we suffer from diseases. Good digestion is as important as healthy stress free mind. Many people ignore the power of good digestion because they think it to be minor ailment. Well, as time progresses, this minor ailment may turn into major ailment, making you suffer.
Why your Digestive Health is more important than you think? It is more important because around 70 percent of body's fighting system (that is immune system) resides in your digestive track.
Where Food goes after we chew it? Let us track the food digestion path inside our body. Steps are as follows-
Mouth (At the first initial level, Enzymes in Saliva breaks down the Food Components)
Food Pipe or Medically called Esophagus.
Stomach (your dear Tummy)
Intestine ( Liver, Gallbladder and Pancreas pour their enzymes into Small Intestine; Enzymes break down the Food, absorption occurs into blood and your food is said to be Digested)
Elimination by additional Water by Kidney
What is the normal time for food Digestion? Well, normal time for food digestion varies differs from individual to individual. From eating food to absorption to elimination is the complete digestion process. The complete digestion process gets completed in 24 to 72 hours.
Why some people are not able to Digest Food efficiently? The answer is just one-deficiency of digestive enzymes. The deficiency of digestive enzymes is hence responsible for Poor and Unhealthy Digestion.
What are the factors which are responsible for deficiency of Digestive Enzymes? Let us list them out. These are as follows-
Poor Eating Habits
Eating Junk Food out of Moderation Levels (Read for details- Junk foods and its harmful effects )
Stress
Lack of Exercise
Not Keeping Yourself Well Hydrated (Drinking Less Water)
Obesity (Read more)
There is one more added disadvantage of deficiency of Digestive Enzymes. What is that? An optimal level of digestive enzymes is needed for optimal function of immune system and other regulatory processes in the body like governing the Metabolism.
What is your Body's Second Brain? It is your gut. The synonyms for gut are Digestive Tract, Gastrointestinal Tract and Alimentary Canal. So why it is called your Second Brain?
Well, Digestive Health and Mental Health are strongly linked. The electrical conduction system of your brain that is nervous system has nerve cells which have high density lining over your gut. As nerves conduct signals to and from your organ systems to brain and vice versa, their high density penetration over your gut as compared to other organs governs a stronger correlation between Digestive Health and Mental Health.
The list of common symptoms which are associated (though, not always) with poor gut health are as follows-
Let us not forget what Father of Modern Medicine – Hippocrates told us. His line is-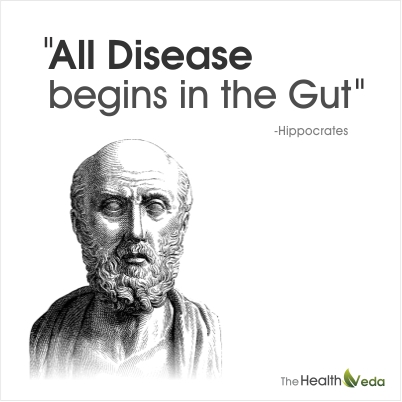 "All disease begins in the gut."  – Hippocrates
This line is ultimate truth. And it is really surprising to have this statement even before the intricacies of `How Body Works' was discovered.

       `Do not ignore the importance of Healthy Digestion

                               A Healthy Digestion is a way towards Healthy Life'
The Importance of Healthy Digestion? If you have any other information, Please add in Comments.
You might also like