Volini Pain relief Spray is the product of multinational pharmaceutical company that is Ranbaxy Laboratories Limited .The tagline which the company uses for the advertisement of  Volini  pain relief spray is `The multitasker in you never settles for less'. No. 1 Doctor Recommended brand Volini is a modern day pain reliever used for treating Muscle pain, joint pain and back pain. The other variants manufactured by Ranbaxy Laboratories Limited are  Volini gel and volini herbal.
Volini Spray – Composition and Active Ingredients
Volini Spray contains the following ingredients as active ingredients. The list of ingredients are as follows-
Menthol topical
Methyl salicylate topical
Diclofenac Diethylammonium Topical
Linseed Oil Topical
Volini Spray Uses/Benefits
One can use Volini spray in the following cases-
Joint pain
Muscle pain
Back pain
Arthritis joint pain
Musculoskeletal aches and pains
Joint inflammation
Muscle and joint injury
Delayed onset muscle soreness
Volini Spray- Quick Pain Relief Spray Price
Buy Volini spray- 40 g online at low prices India on Amazon.
Ranbaxy Volini spray- 100 g at best prices on Shopclues.com.
How does Volini Spray work?
Volini spray works by reducing the pain and helps in treating delayed onset muscle soreness. It helps in providing relief from musculoskeletal aches and pains by action of its active ingredients. The active ingredients penetrate deeply into skin and thus help in giving relief from pain.
Volini Spray – Precautions & Directions of use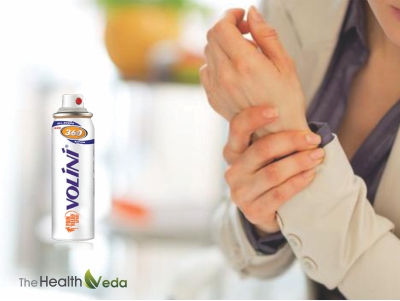 Volini spray is to be used before knowing all the details of medical conditions you are suffering from. For example allergies, medications you are using and condition of pregnancy or  have undergone through surgery  in past. As Volini spray has chemicals present in it so it can react with pre existing medicines you are consuming. Some important precautions to be taken while using Volini spray are as follows-
Do not let Volini spray get in contact with your eyes.
Keep Volini spray away from reach of children
Do not apply Volini spray on open wounds and dry, chapped or sun-burned skin.
Do not wash the area after Volini spray application.
Side effects of  Volini Spray
There are some side effects which are associated with Volini spray application. These side effects do not occur in each individual but in some individuals they happen to take place. Consult a good Doctor if the following side effects persist.
Rash
Dermatitis
Drowsiness
Anaphylactic Reactions
Allergic contact dermatitis
What was your experience with the Volini Spray?
Volini spray was really effective in treating my muscle strain injury which happened while playing basketball. It gave instant and long lasting relief from severe muscle sprain pain.
Share your experiences and reviews about Volini spray.
Volini Pain Relief Spray Review, Uses, Side-effects.  If you have any info or query, please add in comments.
You might also like