Patanjali has number of Skin Care Products in India that serve all the needs for our daily care. It is known for its chemical-free products and Tejus Beauty Cream is one of the Patanjali Skincare Products which is an all-round cream to beautify you. It can prove Best Ayurvedic Beauty Cream for all skin types.
This Cream is Ayurvedic Face Cream that is pocket friendly and also safe on skin. If you do not use any fairness cream and still wants glow than this cream is perfect choice for soft and natural face looks.
Patanjali Tejus beauty cream claims to be Best Cream for Face Glow and Natural Beauty. This beauty cream is beige in color and lightweight cream. Its fragrance is good but not 100% natural as it contains perfume in it.
When you touch, it feels smooth and silky but after applying on face, it feels dry and settles giving you matte finish. Normally, after applying this beauty cream it feel nice and moisturizing without oiliness but in winter it doesn't moisturize well which is problem for Dry Skin. This cream gives foundation like finish leaving no white cast.
This cream absorbs very fast. After cleaning your face properly, apply this cream on face and neck like foundation then blend properly in circular motions.
| | |
| --- | --- |
| Net weight | 50 gm |
| MRP | 70 Rupees – Buy Now |
This product is with least chemicals and Divya Pharmacy is transparent about this product and ingredients in it. It contains ingredients as follows:-
Manjishta
Kutaj
Daru Haldi
Ghrit Kumari (Aloe Vera)
Chandan (Santlum Album)
Tulsi (Ocimum Santlum)
Anantmool
Base material of Patanjali Tejus Beauty Cream contains Stearic Acid (10-15), Wheat Germ Oil (0.5-10), Cetyl Alcohol (0.5-1.0), DC-200-(0.1-1.0), EDTA (0.05-10), , TIO2/ Mica (0.1-1.0), IPM (1-3), KOH (0.1-1.0). LLPO (2-15), Glycerin (5-15), Soya peptide (0.5-1.0), Javitri oil (0.05-0.1), Carbapol (0.01-0.1), Vit- A/Retanyl palmitate (0.05-0.5), A2 Plus (0.3-1.0), Rheam exodi root ext. (0.1-0.20), Asphatik Bhasma (0.05-0.5), Borax (0.1-0.5, Perfume- Dove (0.5-1.0), Water-Q/S.
This Ayurvedic Beauty Cream is packed in a paper carton with tube inside. The tube is sleek with screw fit cap that makes it leakage free. The tube is easy to carry while travelling. Ingredient list are mentioned in Hindi as well as in English. Information on box is also given on the tube.
Non-Greasy and Shine Free Finish on Face
Give Instant Glow
Absorbs Instantly
Never cause Breakouts
Do not Moisturize Well in Winters
Burns on Chapped Skin
Do not lighten Dark Spots
My experience with Patanjali Tejus Beauty Cream (Honest Review)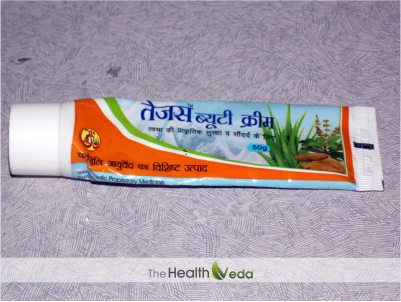 Patanjali Tejus Beauty Cream comes with a very strong ayurvedic Fragrance. If you are allergic to strong smells then it might be issue for you. For me it was good. I didn't feel sticky or greasy after using it. It hydrated and moisturized my skin well leaving it soft and supple. I skip using this Ayurvedic Cream in summers as it does not have Dry Skin. This cream gives bright glow after application.
Patanjali Tejus Beauty Cream Review? If you have any other information, Please add in Comments.
You might also like