Patanjali Beauty Cream Review:-
Patanjali have become a trusted brand name in few years. It has gained customers due to its quality products and its low prices. Even I have tried several Patanjali products and I would say that some product is very good in class and there are some few products that one will never buy again. These days, I have been using Patanjali beauty cream. Today I will review about Patanjali beauty cream and will also share my experience. You can read on to know if you can buy this cream or not.
Patanjali Beauty Cream Texture:-
Patanjali beauty cream comes wheatish in color.  This cream is having very thick consistency. When touched, cream is watery and very smooth. When applied the cream spreads easily on skin without leaving any white casts. A small amount of cream is enough to apply as it spreads very easily.
Patanjali Beauty Cream pack & packaging:-
Patanjali beauty cream comes in standard plastic tube which is white in color. When I received it, patanjali beauty cream mouth was sealed in foil paper. This tube comes with round screw cap not in an attached cap. The screw cap can be close tightly to avoid spillage of the product. The tube has all the details written on it. The tube is filled fully with cream.
I was very happy to see that there was no air or empty space to increase weight of the cream. The packaging is quite simple and travel friendly.
Patanjali Beauty Cream Ingredients:-
This cream consists of seven herbal ingredients. The list is as follows:-
Aloe Vera – It nourishes and provide natural glow to the skin.
Kutaj – It helps to dry oily & watery type skin problems. It helps suppuration, itching, crusting and inflammation.
Anantmool – It heals the damaged skin.
Manjeesht – Clears Acne and Pimples of the skin.
Chandan – It soothes the skin with its cooling effect.
Daruhaldi – It heals the skin pores and damaged skin.
Tulsi – It is skin healer. It is useful in pimples and acne.
Base material
Patanjali Beauty Cream Price Details:-
| | |
| --- | --- |
| Net weight | 50 gm |
| MRP | 70 Rupees |
Patanjali beauty cream is easily available on patanjali stores, chemist shops or can be bought online from Amazon, Snapdeal, eBay, Flipkart  etc.
Benefits of Patanjali Beauty Cream:-
Price is very reasonable
Moisturize skin well
Have mild fragrance
Make skin soft and supple
Get absorbed well on massage
Cons of Patanjali beauty cream:-
Greasy in texture
Skin appears oily
Texture is heavy
If used as day cream, it will make you sweat like hell.
How to use Patanjali Beauty Cream:-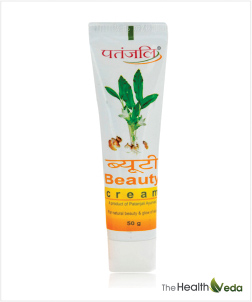 Wash the face and clean it with soft towel.
Take 1-2 grams on palm and gently apply it on face and neck.
Massage it well till it vanishes completely.
This cream is for external use only.
My experience with Patanjali Beauty Cream:-
I am not a fan of fairness product. I generally like to use them to get rid of tanning or to even out skin tone. I tried patanjali beauty cream as I was in search of decent day cream which controls the oil on my face. All cream which I used previously caused me breakouts.
So, this was the reason behind buying ayurvedic cream, patanjali beauty cream didn't caused me breakout but it makes my skin look oily. It doesn't give matt effect on my face. When I applied it I was sweating and my face became very greasy. So according to me this product is same as the ones I used previously. Now I am using this cream on my arms and body.
Recommendation: Now I am using Roop Mantra Ayurvedic cream and this product is better than patanjali beauty cream.
Patanjali Beauty Cream Review – How to use and Price , If you have any info or query, please add in comments.
You might also like