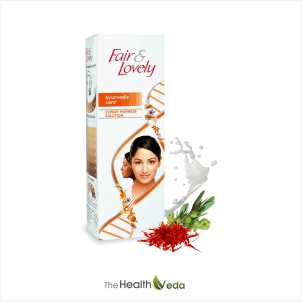 Fair & Lovely is brand that needs no introduction. We all are aware about fair & lovely. I have heard lots of funny gags about this brand in my school days. Since then fair & lovely have changed a lot. It has changed its presentation a lot. Recently it have introduced Ayurvedic version of it by the name of Fair & Lovely Ayurvedic Care on which I will review today.
I love natural, herbal and hand made things as they do not damage my skin with harmful chemicals. So let's get back to the review of this new Fair & Lovely Ayurvedic Care.
Product Description of Fair & Lovely Ayurvedic Care:-
This cream is unique blend of 16 natural ingredients that work to give your skin an Ayurvedic Golden Glow. It claims to look fairer and younger with Fair & Lovely Ayurvedic Care Cream. This cream is enriched with select ayurvedic ingredients like lodhra, khus, kesar, milk and manjishtha.
This cream works well for sensitive skin. This Ayurvedic cream gently clears unwanted marks and patches, leaving your skin lighter, smooth and nourished. This cream is infused with the Kumkumadi tailum.
How does Fair & Lovely Ayurvedic Care Works?
Lodhra , Khas, Neelotpal – calm and soothe the skin
Manjishtha, Kesar & Padmak – clear marks and improve complexion
Milk , Bargad, Wheat Germ Oil – clear uneven skin tone
How to use Fair & Lovely Ayurvedic Care:-
Clean your face well. Apply dots of this ayurvedic face cream on your face and neck. Massage gently with fingertips till the cream gets absorbed completely. For best results use this cream twice a day.
Fair & Lovely Ayurvedic Care Price Details:-
| | | |
| --- | --- | --- |
| Net weight | 25 gm | 50 gm |
| MRP | 60 Rupees | 120 Rupees |

Where to buy Fair & Lovely Ayurvedic Care?
This face cream is easily available at most of cosmetics, departmental stores, super markets and even at most of the medical shops. Apart from this, one can also order it from leading online stores such as Amazon, Snap deal, Flip kart, etc.
Fair & Lovely Ayurvedic Care Benefits:-
It calms and soothes the skin.
It makes the tone of the skin even.
It makes the skin glow and also clears the marks.
It reduces the various signs of aging.
It controls the appearance of freckles and dark spots.
Fair & Lovely Ayurvedic Care Side effects:-
There are no side-effects of this product as this is made up of natural herbal ingredient. User should make sure that he/she shouldn't be allergic to any ingredient of this product and the product should not be used in excess.
What is the Shelf life of Fair & Lovely Ayurvedic Care?
The shelf life of this face cream is mentioned 2 years (24 months) on the product packaging.
My experience with Fair & Lovely Ayurvedic Care (Honest Review)
I found that Fair & Lovely comes in standard packaging which is plastic tube with plastic cap. It is travel friendly. This cream comes with creamy texture which gives matte finish on skin which worked best on oily skin. It also controls shine. This cream will be a big no for dry skin girls. It controls shine on face. I liked the mild fragrance of this cream and it will not bother sensitive noses.
This cream will not give you permanent fairness; it just brightens the face after applying which all the fairness creams do. It will not moisturize your face and not suitable for winters. This ayurvedic care cream doesn't have SPF so before going out in sun you need to apply sunscreen. So overall I did not like this product as it was not useful for me in any aspect.
Fair & Lovely Ayurvedic Care Cream Review? If you have any other information, Please add in Comments.
You might also like