Water is the most Important element of Earth and Body as Well. Water plays a vital role in chemical processes of the body which are ingestion, digestion, absorption, circulation, etc. Water also helps to keep your skin healthy.
In summers, your body sweats a lot and this can lead to dehydration. Loss of water from the body can disturb the normal functioning of body organs and also create skin problems.
Water plays an important role in your life because it is necessary for all the organs of your body. Skin is not just an outer covering of your body but is also a sensitive organ. So, keeping your body hydrated can be a help to this sensitive organ. I'm going to share with you a few points explaining how water can give you Glowing and Healthy Skin.
So, Here it Goes.

1.  Spotless Skin :
Drinking right amount of water can keep your skin hydrated and lower the oil content of the skin. This can keep a balance of oil and water, which free your skin from all the marks and spots.
2. Can Prevents Pimples :
Pimples can pop up on your face in any shape or size and at any time. They can lower your lower your self-confidence. Toxic substances are one of the reasons behind pimples. As, water can help in removing the toxic substances from the body, so, drinking sufficient amount of water is important.
3. Can Give Natural Glow  To Skin :
Water can help your skin by keeping it flexible and beautiful and water does this by maintaining the skin elasticity. This is how water can make your skin can glow naturally with water- the best and easy remedy.
3.  Can Delay the Ageing Signs :
Water can help in maintaining the ideal skin moisture and in delivering necessary nutrients to the skin cells. It replaces the damaged skin cells with new ones. This can help in delaying the appearance of aging signs which are wrinkles and fine lines.
4.  Refreshes Skin :
Dealing with scorching summer heat is not easy. A nice cold shower and relaxing bath can help you in this. It helps to calm down the nerves and lowers the stress level. Soak your entire body in cold water for 2-3 minutes for refreshing your skin. But remember that long exposure of the skin to the water can remove the natural oils, so don't take too long for bathing.
5.  Tightens the Skin :
Splashing your face with cold water around 15 times can help to tighten your skin. Cold water removes the redness of the skin and makes it better for applying makeup.
6.  Prevents Dryness :
Increasing the intake of natural mineral – water, can improve the moisture of the skin. This can remove the dryness of the skin and make it shine naturally.
7. Removes All The Bad Toxins :
Kidneys are the filters system of our body. Kidneys remove the harmful toxic substances from the body and water helps them in doing so.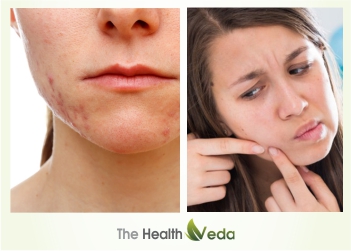 Removing toxic substances from body keeps both our skin and body healthy and happy.
8.  Tips For Drinking More Water :
I personally like to sip icy cold water all day, but it doesn't come naturally to many people. Some people rarely drink water as they find it boring or you can say hard to drink. For those, who don't like to drink pure water, here are some alternative ways which you can follow to get your daily amount of water.
You can drink a cup or two of coffee in the morning.
Drink a cup or two of herbal tea in morning or an afternoon.
You can add flavors to fresh plain water, like by adding lemons, strawberries, cucumbers, mint, peach, and limes etc.
So, besides choosing correct products for your skin, it is also important to take care of your skin well from the inside. It can be done by eating a clean diet and drinking sufficient amount of water. Though drinking water can definitely help you to get better-looking skin, you also have to understand the fact that this cannot happen overnight. Instead, you will have to promise yourself that you'll drink more water and over a period of time, you can notice the changes in your skin.
Liked reading this post? If yes, then hit the like button. You can share your views in the comment box given below.
THANK YOU.