Ayurveda is the ancient old science which has found to be very beneficial in correcting various health ailments. Ayurveda employs use of specific herbs in a formulation to treat particular disease. The advantage of using Ayurvedic medicines is that they are side effects free. So, trusting on Ayurveda is trending a comeback due to effective relief it provides.
Being underweight can be a disaster for the people and consequential low self esteem and low self confidence can further make life cumbersome. Ayurveda has been proven beyond doubt to address underweight condition in an efficient way. This blog has been written to make you aware of top 5 Ayurvedic weight gain supplements available in market. So take a quick look ….. Hope you make a wiser decision and go Ayurveda way to put on some healthy weight.
Scroll down the individual weight gainer supplement  patiently
The list of top 3 Ayurvedic weight gain supplements includes-
Accumass Ayurvedic weight gainer Powder/ Granules is from the house of  Dr. Juneja. Accumass is the 100% Ayurvedic weight gain supplement which is formulated with perfect blend of 18  herbs which helps in giving you healthy weight gain. Accumass Ayurvedic granules help in improvement of metabolism, stamina and immunity eventually leading to weight gain. Ashwagandha, the predominant herb which is present in highest amount as compared to other herbs helps in correcting underweight condition efficiently.
Ayurwin Nutrigain powder is designed in a way to fulfill the nutritional requirements of body thus giving you healthy weight gain. This Ayurvedic weight gain supplement is formulated with herbs such as Ashwagandha and Gokshura which helps in giving healthy weight gain. Along with weight gain promoting herbs, it is has Kharjura and Draksha which helps in removing body weakness and fatigue. It is 100% natural and 100% vegetarian without the addition of any chemical agents.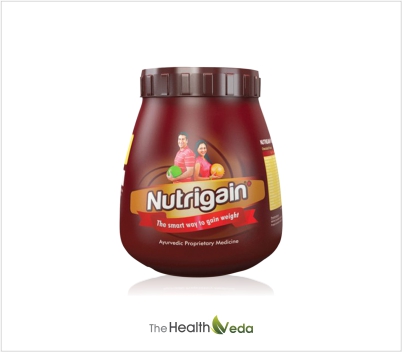 Endura Mass is considered a balanced formulation made up of high quality soy proteins, carbohydrates, fats, minerals and vitamins. Endura Mass provides vital nutrients and energy that helps in gaining optimum weight with time. It gives an extra of 3500 calories per day other than the calories gained by regular diet. Endura Mass helps in improving strength and stamina thus giving healthy weight gain. Some people may be allergic to Maltodextrin or soy protein present in it so check before  using if you have allergy to these products.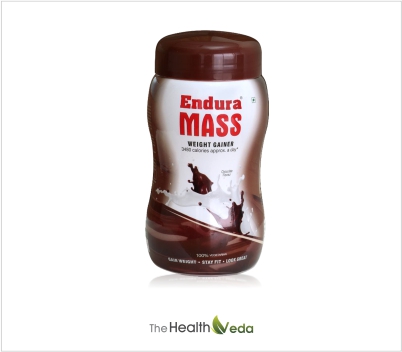 Do tell us which Ayurvedic weight gainer supplement took for weight gain and how effective it was. Looking forward to read your weight gain supplements story.
Happy weight gain 😀
Top 3 Ayurvedic Weight Gain Supplements for Men , If you have any info or query, please add in comments.