Proteinx for weight gain is manufactured by Danone Nutricia. It is an Indian subsidiary of a New Zealand based health and nutritional products manufacturing company that has its products range coverage over 140 countries.
We all are well aware of the importance of Protein Supplement for achieving overall fitness, muscle recovery; fulfill nutritional requirements of the body and thus helping in weight gain. Muscles require protein for their growth, development and nourishment. Along with Protein supplement, it is important to take Protein Rich Diet and in overall, Healthy Balanced Diet .
The following list of ingredients makes up Proteinx Weight Gain Powder. This list includes-
Protein hydrosylate (85%)
Fats (15%)
Carbohydrates
Minerals

Proteinx Protein Supplement Price and Package Details
It is available as 400 gram, 500 gram container and as 250 gram refill packs. It is available in four flavors-
1- Chocolate
2- Vanilla
3- Mix Fruit
4- Elaichi
| | |
| --- | --- |
| Product | 400 gram price (MRP) |
| Proteinx original | Rs 530 – Buy Now |
| Proteinx chocolate | Rs 500 – Buy Now |
| Proteinx Vanilla | Rs 385 – Buy Now |
| Proteinx Mix Fruit | Rs 455 – Buy Now |
| Proteinx Elaichi | Rs 435 – Buy Now |

Proteinx protein supplement for Weight Gain are also available at best competitive prices online on Amazon.com, Snapdeal.com, healthKart.com etc.
How to use Proteinx for Weight Gain? When it comes to using any supplement for Weight Gain, it is really important to know the right dosage procedure.
It is recommended to take Proteinx chocolate Powder/other Flavors twice a day that is in mornings and evenings. Take two full teaspoons of Proteinx Powder in 200ml of milk, dissolve it and drink it immediately.
Proteinx Age Limit
Proteinx Protein Powder comes in different product variants for children and adults. Age limit is defined on each label pack.
Benefits of Proteinx Powder for Weight Gain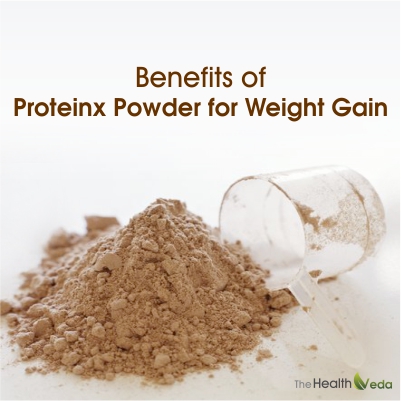 What is the use of Proteinx Powder? It is most common question which people ask? Let us list the health benefits of Proteinx powder-
1- Protein Diet Daily Supplement
2- Improves Digestion
3- Increases Immunity
4- Improves Digestion
5- Improves Growth and Muscle Development
6- Increases Stamina
7- Repairing and rejuvenation of Muscle Tissue
Side effects of Proteinx Powder

Indigestion and Gas Problems- Some people are allergic to proteins so it can lead to gas problems due to indigestion.
Sudden increase Weight Gain- The unhealthy fat gain in a shorter duration of time can lead to sudden increase in weight. This usually happens when person takes more than the recommended dose.
Diarrhea and Stomach Cramps- The undigested excess protein can also lead to problem of diarrhea and stomach cramps.
Dehydration Issues- The more the protein intake, more the amount of water needed for flushing this out. Further, exercise drains you more. So it is important to keep yourself well hydrated.
Its High Sugar Content does not make it a reliable protein supplement
A last tip for all readers– Using any kind protein powder supplement requires advice of doctor. Along with protein supplement, it is important to take proper diet. Proteinx Powder for Weight Gain at one hand gives you good amount of protein content but also comes with side effects. So choose wisely.
Proteinx Protein Supplement Review –  In case of any info or query regarding this, please add in comments.