A sound body depends on a proper Digestion. We often feel Indigestion and other stomach issues only because of improper digestion. Digestion also affects body Metabolism. If our digestive system is not good, our health can suffer in all sorts of ways, resulting various health issues such as Bloating, Constipation, irritable bowel syndrome (IBS), heartburn, diarrhea, or  Gas along with food allergies, exhaustion, asthma, and more additional diseases. Therefore, it is important to keep our digestive system healthy. However, there is always a good option for proper digestion which requires only to simple lifestyle changes in diet and physical activity.
Many of us don't give much importance to our digestive system, thinking that digestion doesn't play an important role in maintaining a good health. Frequent consumption of Junk Food, processed food, and Soda Drinks often cause digestion related problems. Isn't it good to find some tips for improving our digestive system? Your answer might be "Yes". To find out those important tips, let's have a look at the following points to maintain a good digestion:
7 Tips to Improve Digestion:
1.    Incorporate probiotics into your diet :    

Probiotics are present in our digestive system. These are strains of beneficial bacteria which aid in digestion, breaking down the foods and help to prevent infection.It also reduces chronic inflammation.Increasing nutrient absorption, Probiotics can strengthen the immune system, and possibly help to treat IBS.By combating the effects of a poor diet, stress, and antibiotics, Probiotics help to maintain a good health.
2.   Eat on schedule :

Taking meals and snacks on a regular schedule can make the digestive system healthy. Different stomach issues like indigestion, abdominal bloating, gas etc. may result in if we don't eat at consistent times each day.  It is important to take breakfast, lunch, dinner, and snacks around the same time each day. Consuming our meal on a schedule helps to maintain a proper digestion, providing a good comfortable feeling throughout the day.
3.    Limit foods that are high in fat :

Fatty foods slow down the digestive process, resulting in constipation. However, a balanced diet also contains fat along with protein and carbohydrate, including fatty foods with high-fiber foods can make easier to digest this type of food.
Try to Avoid Pre-Packaged, Processed Foods, Junk Food Items. These types of foods contain high quantities of sugar, as well as sodium  and fat.
4.    Listen to your body :

Understanding your body mechanism, just try to make choices based on what works best for your body. Improper digestion can also prevent the absorption of important nutrients.
Eat Green Veggies, stay Hydrated and Take a Proper Meal at proper time period- these strategies will help you to keep your digestive system healthy.
5.    Reset with a regular detox :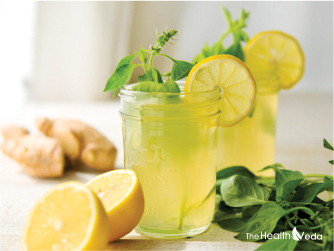 To reset your entire digestive system, a gentle detox on a regular basis is important.
You can add Mint, Cucumber and Ginger to your Drinking Water which is a very Good Detoxifying Drink.
Aloe Vera juice is a good choice to recover all types of digestive issues. Getting enough rest can also affect body's ability to detox and heal.
6.    Chew your food :

Your digestion starts in the mouth. Chewing food properly can help to digest the foods easily. Eat slowly to give your body time to properly digest it. Eating too fast makes the Stomach Unhealthy, Resulting in Gas and Painful Bloating. The enzymes present in your mouth help to break down the food. Most people don't chew thoroughly which gives rise to improper digestion.
7.    Take good care of your liver :

The Liver is also a major part of digestive system. Supporting the liver to work efficiently and effectively, you can enjoy a healthy digestion. Try to increase the intake of foods like carrots, beetroot and leafy which are liver-friendly. Avoid intake of dairy products if you are suffering from lactose intolerance. Fried and junk food are also not a good choice.  Try to avoid eating these foods if you really want a healthy liver.
Digestive health is also as important as bone health, heart health. Taking proper care of your digestive health can help you to improve your overall health, well-being and happiness. You can maintain proper digestion through a simple, proactive changes to your diet and lifestyle. If you neglect your digestive health, your overall health will suffer for it. Therefore, it is your prime concern to make your digestion health good.
Hope you enjoyed this blog. If you have any advice and opinion regarding the maintenance of a good Digestive Health, you can share it with us in our comment section below.