Papaya seeds are thrown in garbage without realizing its immense health benefits. Ahh, really it's not a joke!! Papaya seeds are full of health benefits. Are you still in the thinking loop that papaya seeds are not edible? Wait, they are edible at the first stance. Being edible signifies the non toxic nature of papaya seeds. So without worrying about toxicity or stuff, you can subtly try to include papaya seeds as a health supplement in your diet schedule.
The whole fruit Papaya is the superb fruit for your health. It has been adorned with a name of `Angel of fruits'. So the fleshy yellow part, black seeds and green skin covering of papaya are all useful for health. Many women use papaya skin covering for homemade facial skin purposes. Also, by now you are aware black seeds of Papaya are useful too for the health. Let's see how eating papaya can turn your health on…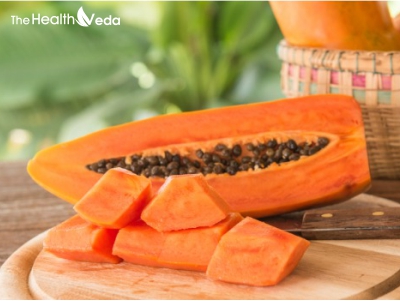 So, Papaya is already an excellent fruit with health benefits like
1- It gives better digestive health.
2- It helps in treating constipation.
3- It revitalizes the skin-hence good skincare.
4- It helps in reducing inflammatory reactions in joints.
5- It is effective against infections.
6- It helps in improving immunity.
Take the glimpse – Top 5 health benefits of Papaya seeds
1- Papaya seeds helps in detoxification of body
Papaya seeds helps in achieving body detoxification. The level of toxins gets diluted by eating papaya seeds. A small amount of Papaya seeds makes body free from toxins.
2- Papaya seeds boosts up metabolism of body
Papaya seeds are rich in proteolytic enzymes that helps in breakdown of proteins in body which is in turn are responsible for deriving power from protein as a energy source. So,it helps is boosting up the metabolism.
3- Papaya seeds shoves off Acne on skin
Consuming Papaya seeds is a good home remedy for treating ugly looking acne on your skin. Blend papaya leaves and papaya seeds together by adding some water. Add this blended mix on acne area and then rinse with water after 10 minutes.
4- Papaya seeds are useful for treating Liver Cirrhosis
Papaya seeds can bring liver cirrhosis to a halt.. The nutrients present in papaya seeds bring the healing effect to liver. Blend the papaya seeds and add this blended powder to yoghurt or salad toppings.
5- Papaya seeds helps in good digestion
Papaya seeds are enriched with plethora of digestive enzymes. Consuming papaya seeds     boosts digestion processes as well as helpful in preventing of infections of the gut. You will get a healthier and stronger digestive system as reward.
How to consume Papaya Seeds?
You can consume Papaya seeds raw but will really hate the bitter taste(It tastes like black    pepper L).It is advisable to blend Papaya seeds and add blended Powder of Papaya seeds in honey, Yoghurt or milk.
An important word of caution to readers about consumption of Papaya seeds !!!
Last but not the least Papaya seeds should not be consumed by pregnant women and breastfeeding mothers.
Also, children should not be given Papaya seeds as their gastrointestinal is sensitive to papaya seeds.
Read more – Benefits of desi ghee for health.
Health benefits of papaya seeds , If you have any info or query, please add in comments.
You might also like