Baking Soda is the ingredient which one can find in any kitchen cupboard. You might have seen your mother using it for baking purposes but do you know? It can also do wonders for your skin also. You might have heard about it.
Baking soda is sodium bicarbonate, a natural substance which is crystalline. This alkaline substance comes with antibacterial, antifungal and anti-inflammatory properties. It is powerful medical tool which helps in fighting skin issues on face.
Baking soda is inexpensive and multitasking ingredient that can help you to look better.  Mainly it is used for skin whitening. There might be some questions striking to your mind that what are benefits of baking soda? Can I use baking soda for skin whitening?  Is baking soda good for skin whitening? Is baking soda effective? Find the answer to all these questions in this article.
There are many natural home remedies for skin lightening and baking soda is one of them.
Is baking soda good for skin whitening?
Baking soda has ability to act as either acidic or basic. This property is useful in neutralizing the acidic PH of the skin that contributes to formation of acne.
When you scrub its small granules on your soft skin it does not cause any injury. Its antiseptic and anti-inflammatory properties kill bacteria and calms irritation. Using baking soda for skin fairness can be very mild and very beneficial for those with sensitive skin.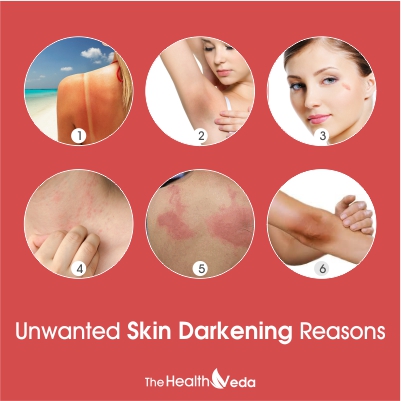 There are some reasons which can lead to unwanted skin darkening such as
Sun exposure
Hair removal
Injury or Scar
Skin allergies
Friction
Contact spots like knee, elbow.
Baking soda is very effective in skin care and also for skin lightening. Baking soda can only be used to improve the area of darkness. It is not the best option for full body skin lightening or to change the skin tone because of its mild nature.
How effective is Baking soda for skin whitening?
Baking soda is effective to whiten smaller patch areas. This kitchen ingredient work best to neutralize the acidic PH that favors bacteria and lightens areas of dark skin.  It works best for sun tan, hyper pigmentation and acne scars. It is also very effective on dark spots to give you uniform skin tone on face.
How to use baking soda to prevent acne?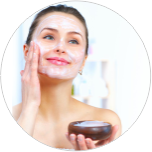 Baking soda can be used to get rid of acne and blackheads. It can be used for exfoliation by mixing 1 tablespoon baking soda with water. Apply this paste to your face, avoiding eye area and let it stay for 10 minutes. Wash with cold water. This will unclog pores which are main cause of blackheads.
How to use baking soda for skin whitening?
Clean your face. Prepare baking soda by mixing 2 tablespoon of low fat yogurt, 2 tablespoon of lemon juice, 1 egg and 2 tablespoon of baking soda. Apply paste on face and let it dry. Rinse with warm water and then with cold water to tighten pores. Repeat this twice a week to achieve desired results.
Is baking soda safe to use on skin? Will it cause any side effects to skin? Baking soda is generally mild but using amphoteric salt on face is not recommended by dermatologists as it cause drying effect on skin. It should be used in moderation. Do not forget to drink lots of water. Also cleanse, exfoliate and moisturize your skin well to get Healthy Skin.
So, before trying baking soda on your face you can do patch test on your arm. Patch test will determine whether your skin is sensitive to it or not. Make sure you do not overuse it. Make use of baking soda with care to get clear and Glowing Skin.
You might also like