Dr. Ortho joint pain relieving spray is the blend of natural oils. The herbal oils present in Dr. Ortho Spray together reduce the inflammation and also fight the joints pain. The spray is also very helpful to treat sprains, joint pains, low back pains, neck pains & sports injuries in joints. The spray is very easy to use, provides instant relief from pain& comes in non-greasy formulation. The effects sustained stays for longer period.
Dr. Ortho Spray is very effective for the joint pain. The spray is easy to apply and will absorb and penetrate into the affected body parts well. The natural ingredients present in the spray help to treat the cause of joint pains.
The main ingredients of Dr. Ortho Pain relief spray are alsi oil, nirgundi oil, gandhpura oil, malkangini oil, nilgiri oil, clove oil, tulsi oil, kapoor oil, peppermint oil and turpentine oil. All these oils are good to help in relieving the pain of joint in a natural way. These oils are highly effective to treat the pain of your joints.
Moreover, using this knees pain reliever spray is also easier as comparison to oil. In a single shot you can spray it on the affected areas and get fine results. Dr. Ortho knee pain reliever spray easily absorbs in the affected areas and keeps you hassle-free. Natural herbs in it are one main reason that makes it more effective and suitable for all age groups to reduce joint pain.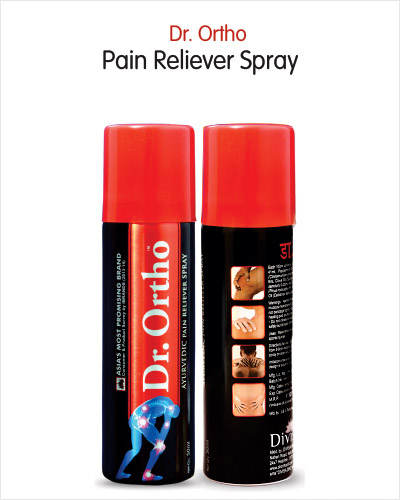 Pack Size & Price: Net Qty. 50ml at Rs. – 127
Buy Dr. Ortho Spray Online: Shop Now
You might also like