Pimple or acne is a very common and disturbing problem of the skin. Besides damaging the skin it also lower down your self-esteem and affect your look. These are the inflammation of the skin raised because of pulling of hair follicles or clogging of the tiny skin pores with extra oil produced by oil glands and some other impurities.
Are you tired you using those chemical based products and medicines and still not getting any results? You should take the help of Ayurveda as people since ages have been using it for many health issues and getting benefits.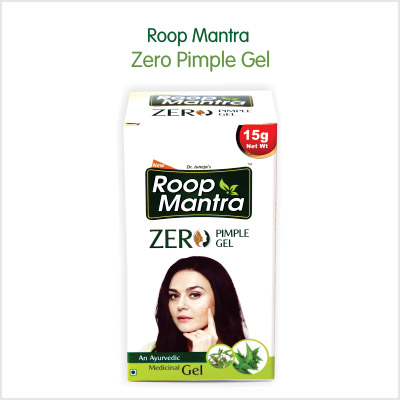 In this modernized world; Roop Mantra unites the ancient Ayurveda elements with science and brings to you Roop Mantra Zero Pimple Gel; a unique ayurvedic formulation. This face gel for pimple is a blend of natural ingredients and uses the goodness of them. The herbal extracts of Rosemary, Green tea, Tea tree oil, Tulsi, Neem, Marigold, Lemon, Aloe Vera, Cucumber, Onion and Mentha are combined together and brought to you in just one pack. This herbal face gel holds remarkable antioxidant, anti-inflammatory, antibacterial, antifungal, and soothing properties. This ayurvedic medicinal gel is safe and it works on the skin in a gentle manner; it helps to remove the acne and pimples without causing any further damage. It works rightly on the affected area and heals the damage done by the acne or pimple to the skin. Application of this antibiotic gel on the face helps to reduce the itchiness, redness and swelling caused by the acne or pimple. If you are looking for an ayurvedic product, this best pimple removal gel is the one you should select. As it reduce the pimples, acne, blemishes, blackheads or whiteheads and marks and keeps the skin clean, clear and healthy.
Pack Size & Price:
Net Wt. 15g at Rs 136/-
Best Ayurvedic Pimple Removal Gel : Shop Now
You might also like